你好!我們是必靈科技有限公司,自家研發跌倒偵測智能手杖「優杖」,希望減少長者跌倒的風險。為普及樂齡科技,「優杖」的多項專利技術現已轉化成 STEM 課程,以簡單易懂的方式,教授學生同理心及創科知識,同時提升他們對人口老化及社會議題的關注。
這個夏天,必靈科技將於科學園舉辦「創新工作坊」,包括STEM產品體驗,踏上科技社會企業的旅程,了解從意念到產品的歷程,學生更會參與設計思維小組活動。如想豐富學生體驗,更可以額外升級,參觀香港科學園創科體驗館。
活動日期:2022年7月11日或2022年8月17日(二選一)*可商議*
活動時間:約四小時(可選上午或下午時段)*可商議*
活動地點:香港科學園
活動人數:20-50人 (學生和老師)
如有任何查詢,歡迎聯絡我們!期待在工作坊見到你!
電郵:info@bnet-tech.com
電話:+852 3916 7407
WhatsApp:+852 9877 4144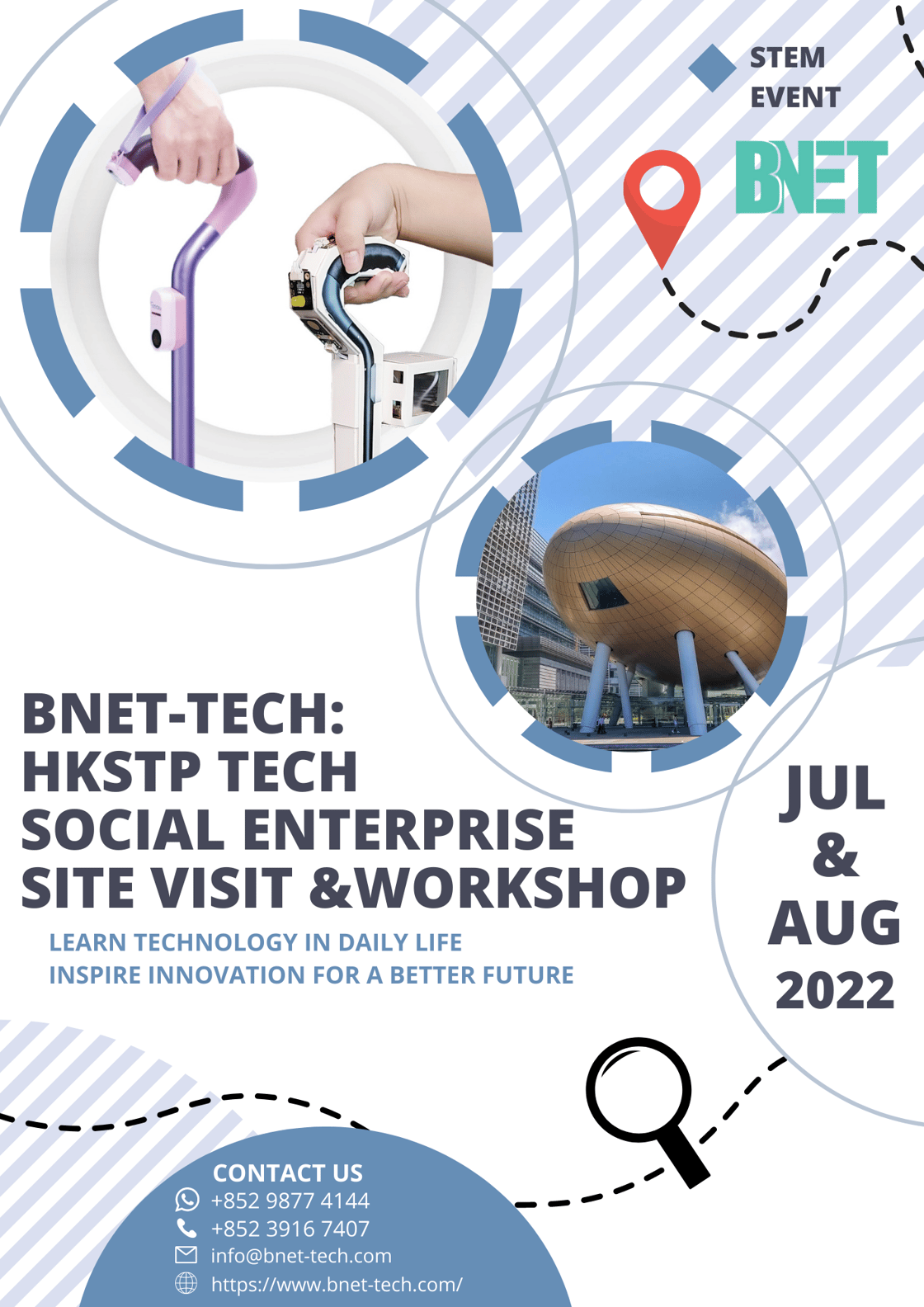 Here is BNET-TECH Company Limited, a gerontech social enterprise. We aim to increase the safety and mobility of elderly so we designed a smart walking cane "STICKu" which has the patented function of fall detection.
It is hoped to raise students' empathy and boost their technological knowledge so we designed a unique STEM x Gerontech Education Program which is the first to infuse Gerontechnology elements in STEM education.
At the same time, it is believed the courses can raise their awareness on the ageing population and related social issues.
In this summer, BNET-TECH will organise a "HKSTP Tech Social Enterprise Site Visit & Workshop" in Hong Kong Science and Technology Park.
The workshop includes experience of STEM products, understanding history and development of social entrepreneurs.
Students can also engage in critical thinking activities. If students want to explore more, you can upgrade the course to visit HKSTP Experience Centre.
Date: 11/07/2022 or 17/08/2022 (either 1) *negotiable*
Duration: Around 4 hours (either morning section or afternoon section) *negotiable*
Venue: Hong Kong Science and Technology Park
Number of people: 20-50 (including both students and teachers)
If you have any enquiries, please feel free to contact us! We look forward to seeing you in the workshop!
Email address:info@bnet-tech.com
Phone number:+852 3916 7407
WhatsApp number:+852 9877 4144